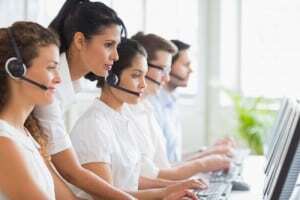 Specialized Telephone Answering Service
Southwest Answering Service offers our clients a wide variety of first class telephone answering services.
Our state-of-the-art technology and exceptional answering agents allow us to provide custom-designed programs to each of our clients. From medical emergencies to order-entry, our experienced agents have years of experience and skills that span across industries. All of our scripts and processes are constantly analyzed to improve escalation paths and efficiency.
We work primarily with high-touch or high-pressure businesses and medical practices seeking first-class customer support for themselves or their entire practice. Our telephone answering services help pave the way to sustainable success.
Our clients love working with us because we provide responsive, attentive customer care with a solution-based model aiming for first call resolution. The ability to solve problems and answer questions on the first call enhances a client or patient's experience and improves their affinity to your brand.
Some of our services include the following:
Why Wait? Get Started Today
In most cases, answering service programs can be set up within days and only require a brief set up call. When more complex protocols are required for multiple offices, Southwest Answering Service assigns an account manager to identify and manage the program requirements. In any case, we do the work for you to ensure a seamless transition for you and your team. It's easy — get started today!
What Answering Service options are best for you?
After hours answering service
Security compliant messaging
Virtual Receptionist
Voicemail
Call reporting
Message Dispatch